Amidst the tumultuous ride of the NFT market in recent years, one fact remains crystal clear: these digital collectibles have solidified their dominance in the realm of blockchain. Regarding the recent NFT market conditions, DappRadar reports a staggering $2 billion in total NFT trading volume over the last two months – February and March 2023.
With that said, several NFT projects enjoy immense popularity amongst NFT enthusiasts, and CryptoPunks happens to be one of them. Being recognized as the earliest NFT series developed on the Ethereum blockchain, CryptoPunks has gained a reputation for being one of the most exorbitant NFT collections.
In this article, we will overview what are CryptoPunks, what makes them unique, and the list of the most expensive Punks ever sold.
What are CryptoPunks?

CryptoPunks is a collection of 10,000 digital collectibles stored on the Ethereum blockchain. They are 8-bit style, pixelated avatars marked by a distinguished set of attributes, including different hairstyles, hair color, skin color, lipsticks, hats, 3D glasses, chains, and eyeshadows among others.
Consequently, no two punks are similar to each other. Among the 4,000+ Punks displaying 3 attributes and the 3,500+ Punks sporting 2 attributes, there exists only one Punk that boasts 7 attributes. There are also 8 Punks with absolutely no attribute, known as 'Genesis Punks.'
Moreover, all the art images are not human characters; some variations boast non-human creatures like zombies or apes. That said, CryptoPunks are typically categorized into five types as per their increasing rarity, namely male, female, zombie, apes, and the extremely rare, aliens, which are the most coveted of them all and only 9 of them exist within the entire collection.
While most NFT collections these days conform to the ERC-721 standard, CryptoPunks stand out from the pack as they were minted with the ERC-20 token standard. It's worth noting that the ERC-721 standard utilized by the majority of Ethereum-based NFT collections today was largely inspired by the success of CryptoPunks.
History of the CryptoPunks project: Who created it?
Back in 2017, a curious project was born out of the minds of Matt Hall and John Watkinson, the founders of American Larva Labs Studio. The aim was to generate a horde of nonconformist, pixelated visuals, which could be employed in mobile applications or games. Named "CryptoPunks," the NFT initiative was subsequently made available to anyone with an Ethereum wallet for free, given that they were willing to cover a small minting fee.
Fast-forward to the NFT surge of 2021, the CryptoPunks experienced a massive surge in value whereby some Punks were sold for millions of dollars.
Note that CryptoPunks were the inaugural NFT mementos that elevated from mere internet chatter to commanding absurd bids at elite auction houses like Christie's and Sotheby's.
What makes CryptoPunks so special?
Do you know that the CryptoPunk NFTs were actually inspired by two fascinating cultural movements? It draws upon the Cypherpunk subculture, which is a subversive and transgressive form of speculative fiction involving rebellious, surreal, and anti-establishment vibes, as well as the legendary London Punk movement of the late 20th century.
While this project is rooted in a revolutionary inspiration, its uniqueness truly stems from being an NFT initiative where each and every Punk is one-of-a-kind and impossible to replicate. Although anyone can acquire pictures or screenshots of these NFTs, there can be only 1 owner of the original work. Also, these Punks possess unique attributes that make them quite special – some traits are rarer and more desirable than others.
What sets CryptoPunks apart is not just their rarity, but also their iconic pixel art aesthetic. The collection's simply-designed avatars that integrate an array of unique features have made it an immensely popular project.
Moreover, another factor that has contributed to CryptoPunk's meteoric rise to fame is its status as one of the pioneer projects on the Ethereum network. Later on, the CryptoPunks collection inspired a whole generation of similar projects, such as the Bored Ape Yacht Club, Cool Cats, and many more.
The CryptoPunk project furnishes one other distinctive feature that makes it stand out from most other collections. The pixelated images of CryptoPunks are designed to be lightweight and take up minimal block space, making it easy to store them on the blockchain. It signifies that the Punk NFTs are truly native to the blockchain and differ from other projects which are often stored in non-blockchain-based directories for easiness.
Three most expensive CryptoPunks ever sold
Here, we are going to take a look at some of the most expensive CryptoPunks ever sold. To offer a clear and accurate perspective, we will be discussing their prices in USD at the time of sale, rather than ETH.
3. CryptoPunk #5577 – 7.7 million USD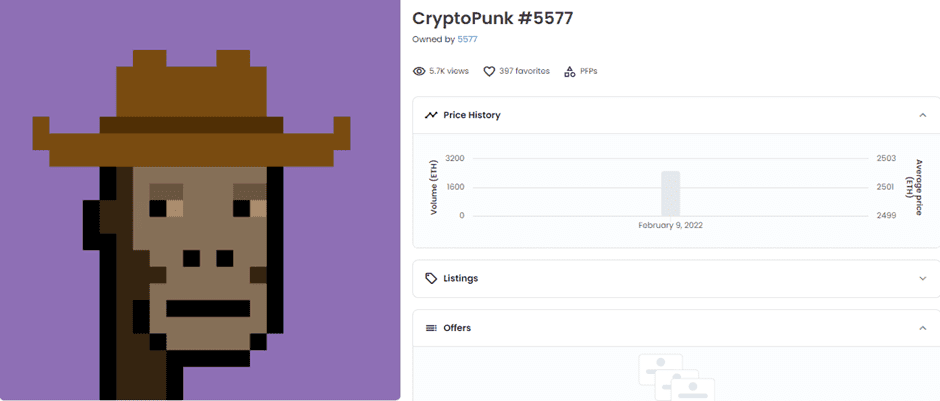 The CryptoPunk #5577 is a unique Ape Punk that flaunts a cowboy hat attribute. In February 2022, it was sold for 2.5k ETH, which translated to almost 7.7 million USD at that time.
Interestingly, this Punk's selling price in ETH is quite below the level of some others sold. However, it's still the third most expensive CryptoPunk ever sold as it brought an amazing 7.7 million USD owing to the astounding worth of ETH during that time.
Before being sold for a huge sum, this Ape was owned by Straybits, a legend among the CryptoPunk community who minted many Punk NFTs for free in 2017.
2. CryptoPunk #4156 – 10.26 million USD
Over the course of its existence, Ape CryptoPunk #4156 has been a prized possession for various collectors. This particular Ape, with its unique bandana characteristic, holds second place among the most expensive Punks ever sold.
Initially obtained for free in 2017, the Punk was sold for a mere 3.29 ETH shortly after. Fast forward to February 2021, the same Punk was sold for an impressive 1.25 million USD.
As the value of ETH continued to skyrocket, the Punk was sold again in December of the same year for a staggering 10.26 million USD, which translated to 2.5k ETH at the time. Even though it changed hands again in July 2022, this time it was sold for 3.31 million USD despite representing a gain when measured in ETH (2.6k ETH)
1. CryptoPunk #5822 – 23.7 million USD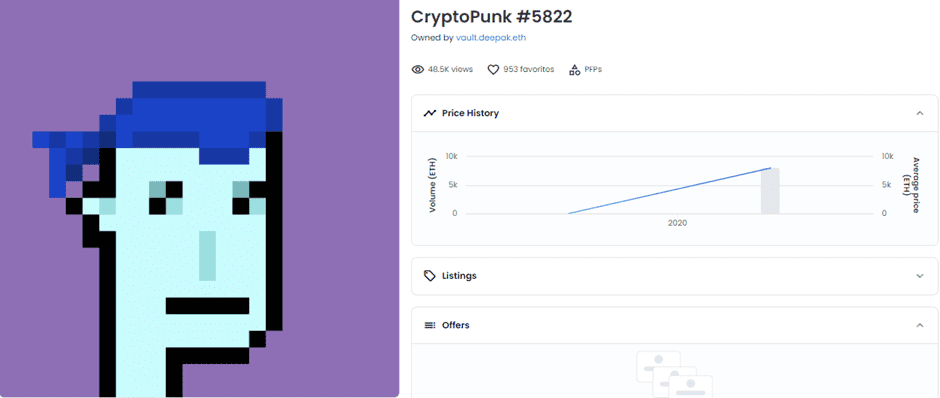 And here comes the extremely popular bandana-wearing Alien Punk which holds the title of being the most expensive punk ever sold.
In a remarkable sale that stunned the NFT world, this singular attribute punk fetched a jaw-dropping 23.7 million USD in February 2022.
Like all other Punks, this "Alien Punk" also had humble beginnings. It was originally created and distributed for free by Straybits back in June 2017. Just after a month, it was again sold to an anonymous buyer for 8 ETH, valued at nearly 1600 USD at that time.
Later, the ownership of the Punk circulated among various individuals before ultimately landing in the custody of Deepak Thapliyal, the CEO of the blockchain-based company Chain, who acquired it for 23.7 million USD.
Read more:
https://thetradingbay.com/bored-ape-yacht-club-what-is-this-nfts-group-why-is-it-so-popular/