With the growing concerns regarding climate change and global warming, a large number of companies are pivoting their direction to the "go green" initiative. According to an IEA report, the amount of renewable energy added over the period 2021-2026 is projected to be 50% higher than from 2015-2020. Keeping pace with this transitional ambiance, the general public and investors are also moving towards eco-friendly projects targeting a minimal or zero carbon footprint. Adding to this mix are the recent geopolitical disturbances that have pushed fossil fuel prices to new heights, instigating the people to capitalize on renewable energy sources.
As all this scenario bodes well for the green energy sector, now is a good time to invest in some renewable energy stocks. Here is a list of the 10 best green energy stocks of 2022 you can consider adding to your portfolio to take advantage of this evolving trend.
1. Clearway Energy (CWEN)
Based in New Jersey, Clearway Energy Inc. is one of the most prominent renewable energy businesses in the US. The company manages a number of wind and solar power projects, generating more than 5000 megawatts through them. Further, Clearway Energy also operates several natural gas generation facilities and district energy systems.
Currently, the corporation has a total market capitalization of $6.65 billion, with more than 80 million shares outstanding. Its recent income statement displays $1.26 billion in revenue (ttm) and a profit margin of 1.27%.
2. Enphase Energy (ENPH)
Headquartered in California, Enphase Energy specializes in providing solar energy solutions to large equipment developers, strategic partners, and directly to homeowners in the US and worldwide. The company designs and manufactures solar photovoltaic linked products, including microinverters, energy monitoring devices, and AC battery storage systems.
Enphase Energy has a total market cap of more than $26 billion with a quarterly revenue rate (yoy) of 46.20%. Moreover, the company's recent valuation measures show a trailing P/E of 185.
3. Ameresco (AMRC)
Founded in 2000, Ameresco is a Massachusetts-based clean technology company that offers energy-efficient solutions internationally. In addition, the company extends several renewable energy services, such as the development of small-scale energy plants and renewable energy-powered cooling or heating systems. Further, Ameresco sells PV solar energy products and runs a wind-power project located in Ireland.
As of now, AMRC has a market value of approximately $2.7 billion with a "strong-buy" rating issued by the Koyfin platform. The company has recorded almost $1.4 billion in revenue over the last 12 months, exhibiting the latest quarterly revenue growth (yoy) of 87.9%.
4. On Semiconductor Corp. (ON)
Based in Arizona, ON Semiconductor Corp. is a power technology company that empowers the automotive industry, specifically EV vehicles and fast charging systems. The company operates via three segments and supplies diverse semiconductor products useful for power switching and voltage regulation functions. Moreover, concerning the sustainable energy facet, the company's CEO has recently assured that 70% of the $2.4 billion revenue (designated for projects till 2024) would be used for EV applications.
The corporation's market capitalization currently stands at $23 billion, with a trailing twelve months gross profit of $2.7 billion.
5. NextEra Energy (NEE)
Based in Florida, NextEra Energy is one of the world's largest producers and distributors of energy generated via wind, solar, nuclear, and coal sources. The company also constructs and manages several renewable generation and electricity transmission facilities as well as battery storage projects. By the end of last year, the company had an overall electricity generation capacity of nearly 29,000 megawatts with over 77k transmission and distribution lines.
Currently, NEE has a remarkable market capitalization of $157 billion with a trailing P/E of 108. The company has delivered approximately 700% overall return on its shares in the last 10 years.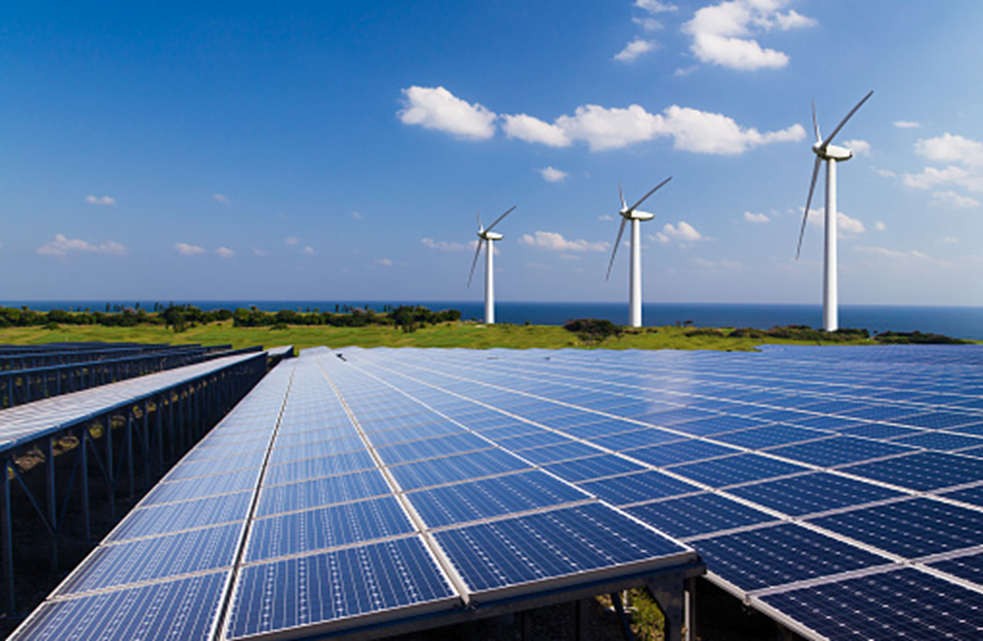 6. First Solar (FSLR)
Headquartered in Tempe, Arizona, First Solar Inc. specializes in the distribution of solar energy solutions, such as cadmium telluride solar modules, suitable for utility-level projects.
Recording a total market cap of $7.8 billion, FSLR is one of the top green energy stocks in India, Canada, Japan, and the US. According to the latest statistics, the company documents a price-to-earnings ratio of 36.07 with approximately $740 million in gross profit.
7. Vistra Corp (VST)
With its headquarters in Texas, Vistra Corp and its subsidiaries function as a retail power generation company. According to the company's statement, Vistra is the largest competitive power generator in the US as well as a prominent purchaser of wind power. Moreover, the corporation reports a power generation capacity of almost 39,000 megawatts, derived from solar, nuclear, and natural gas sources.
With a market capitalization of more than $9 billion, Vistra posted around $22 billion in the trailing-12 month revenue, according to the latest data.
8. SolarEdge Technologies (SEGD)
Founded in 2006, SolarEdge Technologies manufactures and sells DC-optimized inverter systems globally. With its five operating segments, the company provides power optimizers and energy management solutions utilized in commercial and residential solar installations. Further, SolarEdge also offers its products to large-scale PV module manufacturers, equipment wholesalers, and solar-energy-related firms.
SEGD has a total market capitalization of over $16 billion, with more than 55 million shares outstanding. The company's income statement manifests a significant quarterly revenue growth of (yoy) 61%.
9. Tesla (TSLA)
Widely popular among the investors' community, Tesla is an automotive and clean energy company with worldwide operations. The company primarily manufactures electric vehicles, including sedans and sport utility vehicles. It also has an energy generation branch that deals with energy storage products and leasing solar energy.
While TSLA stock has depreciated more than 40% since the beginning of 2022 due to harsh economic conditions, the company holds the capability to recover from this tough phase. Tesla has a magnanimous market capitalization of more than $780 billion with over 1 billion outstanding shares.
10. Brookfield Renewable Partners LP (BEP)
Based in Bermuda, Brookfield Renewable is a leading power generating company with several facilities in India, China, Europe, and North America. The company is one of the largest producers of hydroelectric power, which occupies the highest percentage in its portfolio. Brookfield also generates electricity from wind, solar, and biomass sources, having a net generation capacity of approximately 29,000 megawatts.
With a market capitalization of $12 billion (as of July 2022), the company records quarterly revenue growth and operating margin of 11.40% and 27.46%, respectively.
Read more:
https://thetradingbay.com/top-10-cryptocurrencies-to-invest/
https://thetradingbay.com/etfs-vs-mutual-funds-which-one-is-better/