As the Bitcoin's remarkable ascent, crypto enthusiasts are in a hustle to timely secure the next digital assets that could similarly skyrocket in value. Within a decade, cryptocurrencies have entered the financial mainstream despite their high volatility, with many coins showing a monumental growth rate in recent years. 2021 marked a notable period for many cryptocurrencies as coins like SOL, AXS, and LUNA gained more than 10,000% while Bitcoins touched its all-time high of approx.. $68,000.
So, you might be thinking, what is the next cryptocurrency to explode in 2022? Though there is no clear way to know which coins would actually perform better, it is better to look at the small coins that have not yet surged in value fully. Here, we have gathered a list of some crypto coins with promising networks and optimistic prospects.
You may also like: 5 Best Cryptocurrency Brokers in India
What is The Next Cryptocurrency To Explode?
With a 24 billion market cap, Cardano is one of the most popular and durable blockchains utilizing an energy-efficient proof-of-stake consensus protocol called Ouroboros. Besides the validation of transactions, the Cardano blockchain supports decentralized finance, dApps, and smart contracts, making it a significant Ethereum competitor. Moreover, the network sustains a process of open-source, peer-reviewed research, according to which ideas can be challenged and evolved on a broader level.
Cardano takes pride in its regular hard forks, which are directed to upgrade and improve the whole blockchain framework. In September 2021, the network launched the Alonzo hard fork, which enabled its smart contracts and Defi capabilities, bringing an end to the previous Shelly era.
ADA is the primary token of the Cardano blockchain, which is used to pay transaction fees on the platform. It is also distributed as a reward to the proof-of-stake system validators. For capitalizing on the Cardano network, you have to invest in ADA, which may surge in the value corresponding to the parent blockchain. Altogether, Cardano (ADA) is an excellent investing bet due to its less energy-intensive protocol, decentralized finance structure, faster transactions than Bitcoin and Ethereum, and progressive updates or hard forks.
ADA has a maximum circulating supply of 45 billion; at the time of writing, approximately 33 billion ADA are in circulation.
Originally known as ETHLend, Aave is one of the largest decentralized lending protocols allowing the users to lend and borrow crypto through smart contracts without the involvement of any central authority. Originally developed on the Ethereum blockchain, Aave has included several other chains to process transactions, including Fantom, Harmony, and Avalanche. Moreover, the recent Aave V3 update has introduced an enhanced decentralization feature called "Portal," facilitating the lending and borrowing across different blockchains such as Avalanche or Solana.
For lending purposes, Aave manages a "liquidity pool" where users deposit their tokens and receive interest in the form of aTokens (a secondary token of the Aave ecosystem used for collecting interest). According to the DeFi space lending regulations, borrowers must put forward a "collateral" in order to collect loans. However, there is no need for collateral in the case of flash loans that get issued and settled instantly.
Currently, Aave incorporates different pools that support around 30 Ethereum-based coins (stable coins) as well as other markets. Additionally, the network also assimilates pools for real-world products like real estate and cargo/freight invoices.
AAVE is the Aave blockchain's main utility and governance token that maintains its Decentralized Autonomous Organization (DAO). Besides the voting rights, AAVE holders enjoy several fee-related advantages or discounts and an increased borrowing limit. All in all, Aave holds the potential to blow in value thanks to its flash loans (uncollateralized loan) feature, alternating fixed and variable interest rates, and a wider choice of cryptocurrencies available for loans.
A major player in the metaverse, Decentraland is a virtual reality universe built on the Ethereum blockchain where participants purchase, monetize, and sell parcels of land. The Decentraland metaverse integrates several 3D visions, virtual districts, interactive games, and a peer-to-peer communication channel between users. In this world, players deal with LAND (non-fungible tokens that define the ownership of virtual plots), which can be developed into whatever they decide. Several users lease or rent their LAND plots, whereas others open marketplaces or hold festivals on their digital real estate.
Recognized as the pioneer of metaverse cryptocurrencies, MANA, an ECR-20 token, is the primary currency of the Decentraland. Besides its utilization in the purchase or trade of LAND, MANA facilitates the users-interaction in the Decentraland ecosystem and allows the players to customize or buy a variety of avatars, wearables, and names. MANA also authorizes the users to participate in the governance of Decentraland by enabling them to vote on policies and decide the operational structure of this virtual game.
Decentraland (MANA) incorporates a substantial growth capacity due to its implementation of DAO and capitalization on the leading metaverse trend.
Built on the Ethereum blockchain, the Render token is a unique decentralized network designed to distribute GPU rendering services. The platform is built to support the digital creators, artists & studios, allowing them to securely share GPU computational power and receive rewards in return.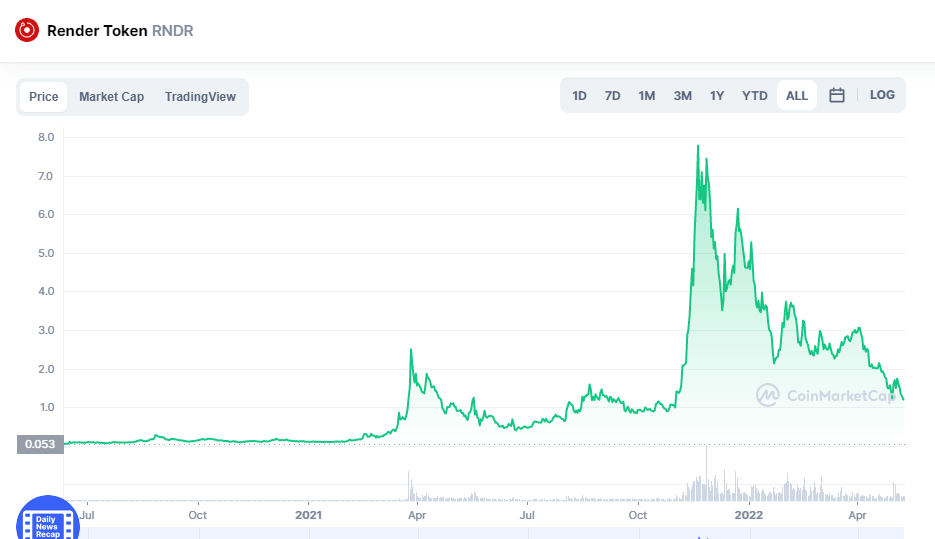 Render Token (RNDR) is a breakthrough in the digital industry as it solves the traditional issues of processing systems and reduces costs. Revoking the need to buy heavy and expensive hardware, this decentralized GPU rendering network makes it possible for the users to save their money and time. Moreover, with the help of the escrow system and the security of the Ethereum blockchain, payments between GPU providers and commissioning artists are validated efficiently.
RNDR is the native token of this platform that powers all transactions and payments. The coin has a maximum supply of 536 million, out of which 242 million tokens are currently in circulation.
Launched in 2017, Tron is an open-source, decentralized blockchain-based platform utilizing the proof-of-stake consensus protocol. This blockchain supports smart contracts and dApps, establishing a suitable network for digital content creators. Tron was built with an aim to help composers share their content, whether music, apps, games, or videos, and connect with the audiences directly, without the involvement of centralized parties. As a result, both consumers and creators could experience lesser costs with no obligation to pay commissions.
With a market cap of $8.5 billion, Tronix (TRX) is the native cryptocurrency that powers the Tron ecosystem. Keep note that digital creators who produce content on the Tron blockchain receive TRX tokens for their efforts.
Tron is a good investment option for crypto enthusiasts due to its decentralized content sharing services, transparent roadmap, fast and free transactions, and professional developer team.