In recent years, Electric vehicle stocks have gained substantial attention from the investor community due to their high-growth prospects. Undoubtedly, Electric vehicles are gradually making their way into the global transportation industry on account of their impressive environmental benefits and reliance on renewable energy instead of petroleum or natural gas.
According to globalnewswire, the EV industry could touch $1000 billion in value by 2028 with a CAGR of around 24.5% from 2022 to 2028. In India specifically, the EV market, which is currently in its nascent stages, is expected to grow by 90% to reach $150 billion by 2030, as per a recent RBSA Advisors report. With that said, now is a good time to put your stakes in the electric vehicles industry, considering its optimistic future outlook.
In this article, we have arranged a list of the best EV stocks to buy in India to catch the expected EV market boom.
You may also like: 5 Best Stocks to Invest in India for Long-Term
5 Best EV Stocks to Buy in India
1. Tesla Inc. (TSLA)
Being an undisputed leader of the EV industry, Elon Musk's company, Tesla Inc., is a top choice among investors who want to invest in electric vehicle stocks. Headquartered in US Texas, the company designs, manufactures, and sells electric vehicles and energy generation systems around the globe. Its Automotive branch deals with electric vehicles, including sports utility vehicles and regulatory credits. Whereas its Energy Generation segment develops and installs solar energy generation and storage products for commercial and residential consumers.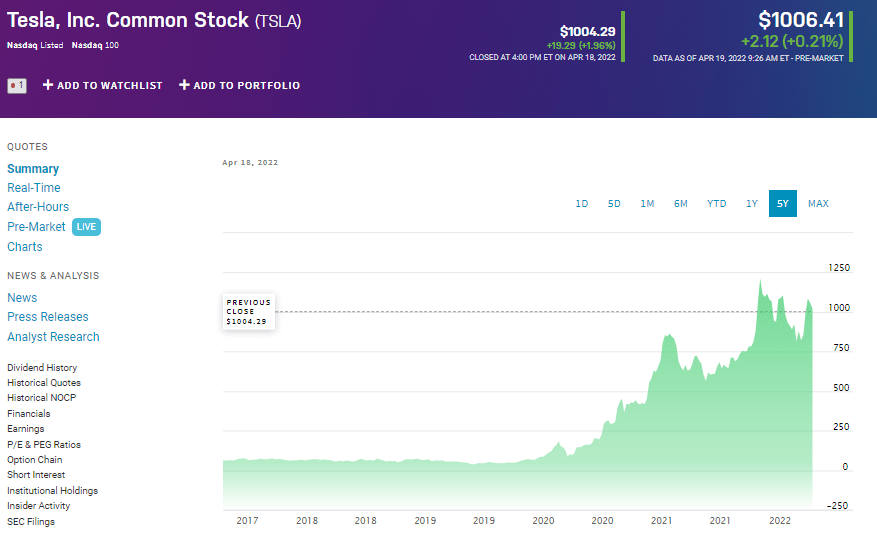 Thanks to its surging sales, increased car deliveries, and construction of new factories in diverse locations, the company is consistently expanding and growing. Just last year, Tesla sold almost 1 million vehicles, showing a remarkable 87% increase from the 2020 sales. Moreover, despite the supply chain disruptions since the beginning of 2022, the company has managed to keep up its sales. Tesla has delivered 310,000 vehicles from this January to March compared to the sale of 180,000 cars during the same duration in 2021.
According to the recent data, the company has a total market capitalization of 1.02 trillion with more than one billion outstanding shares. Its latest quarterly revenue growth stands at a notable 64.9%, with a trailing price-to-earnings ratio of 201. Currently, the TSLA stock is trading at around $1006.
2. Nio Inc. (NIO)
Based in China, NIO Inc. has gained significant attention recently due to its high growth potential and the overall surging interest in the EV industry. The company designs, manufactures, and sells electric vehicles in China and is gradually expanding globally. It specializes in the production of sports utility vehicles (SUVs) and smart electric sedans in addition to battery packs, e-power stations, and energy & service packages.
Although the supply chain issues have been disrupting production since the start of this year, the EV company delivered over 25,000 vehicles in the first quarter of 2022, manifesting an increase of 28.5% year-over-year. Also, NIO sold more than 91,000 vehicles in 2021, indicating an increase of around 109% year-over-year. Further, the company is planning to launch stores in Germany, Sweden, Denmark, and the Netherlands in 2022, after establishing its presence in Norway last year.
As of now, the total market capitalization of Nio Inc. is around 35 billion, with 1.6 billion shares outstanding. The company's recent income statement displays a quarterly revenue growth of 49% and a revenue generation of 36.1 billion in the last 12 months. At the time of writing, NIO stock is trading at $19.7.
3. EVgo Inc. (EVGO)
Operational since 2010, EVgo Inc. manages a direct current charging network in the US. The company provides fast charging to electric vehicles and owns more than 850 power stations ranging from 50 kW to 350 kW. EVgo is one of the best EV stocks to select if you want to go for a company indirectly involved with electric vehicles.
By the end of 2021, EVgo had registered around 340,000 total customer accounts, showing an addition of 109,000 accounts within a single year. Moreover, the company's Q4 report for 2021 indicates a growth of 70% compared to the same duration in 2020. Looking at the valuation measures, this EV charging company has a market capitalization of 851 million with a price to sales (ttm) ratio of 37.91. At present, EVGO stock is trading around $11.
4. Lucid Group (LCID)
Lucid Group is another prominent name among the top EV stocks with positive prospects. Based in California, the company designs, manufactures, and sells electric vehicles, battery systems, and EV powertrains. Lucid Group started its car deliveries in October last year and has so far sold more than 300 vehicles. Additionally, over 25,000 Lucid car reservations have been made till now, indicating potential sales of $2.4 billion.
Lucid Group Inc. Price Chart
Moreover, the company's Lucid Air model won the MotorTrend's car of the year award due to its extended range and innovative features. Altogether, the Lucid Group incorporates a reasonable growth potential as it is expanding in the international markets, and new models are set to be launched in 2023.
Currently, this EV company has a total market capitalization of approximately 35 billion, with 1.6 billion shares outstanding. Its recent quarterly revenue growth rate stands at 626%, with a trailing twelve months revenue of 27.1 million. At the time of writing, the LCID stock is trading at $21.
5. Ford Motor Company (F)
Ford Motor Company deals with the manufacturing and sales of a wide range of trucks, cars, SUVs, and electric vehicles. Based in Michigan, Ford is one of the best bets among EV stocks as the company plans to make at least 40% of all its vehicles electric by 2030. Around 27,140 Ford's Mach-E cars were sold in 2021, making it the second bestselling full-electric SUV.
According to CEO Jim Farley, the company recorded the highest EV sales to date this January, making Ford the number 2 electric vehicles retailer after Tesla. Moreover, the recent announcement by Ford about the expected sales of more than 2 million EVs by 2026 (one-third of its overall vehicles sales) demonstrates the great potential of this EV enterprise.
Currently, Ford Motor's total market capitalization is over 64 billion, with approximately 4 billion shares outstanding. It generated 136 billion in revenue during the last twelve months with a profit margin of 13.16%. At present, Ford's stock is trading at $16.