In this post, we have covered the 5 best stocks to invest in India. Most stocks and indices have faced major setbacks since the start of 2022 due to the rising geopolitical tensions, surging interest rates, and high inflation. Although recovery is underway, investors have become warier than ever about their financial decisions. As a result, the investors' sentiment has greatly shifted toward more anchored and worthy stocks that could get through any turbulent stages.
From this perspective, blue-chip companies with solid fundamentals, reliable financial records, and long-operational history provide good opportunities to build a steady, long-term wealth despite the periodic uncertainties. For instance, your 1 lakh INR investment could be transformed into approximately 7 lakh INR after ten years if invested in a stable stock with average annualized returns of 20-22%. (Caution: In investing, there is no 100% guarantee of positive returns)
That being said, investing in the right stocks is the best thing you can do to ensure your future financial security. Here, we have compiled a list of the five best stocks to invest in India, suitable for prolonged holding due to their high growth potential.
You may also like: What is Forex Trading and How Does it Work? – 5 Easy to Follow Steps
5 Best Stocks to Invest in India
1. Amazon Inc.(AMZN)
Amazon is one of the best stocks to invest in due to its undisputed place as an e-commerce behemoth. This tech company is most likely to ride the growth wave of the e-commerce industry that is expected to cross $17 trillion in value by 2030.
Headquartered in Washington, Amazon is a globally operational e-commerce platform that manages the sales of diverse items purchased from third-party sellers. However, e-commerce is not the sole component of Amazon, as the company also develops various electronic gadgets, like Kindle, and integrates an Amazon Web Services segment known for its cloud computing services. This tech giant has been maintaining its supremacy in the cloud business for the last few years; it single-handedly contributed $62 billion to the $180 billion cloud computing market in 2021.
The company's recent data shows a total market capitalization of 1.5 trillion and a trailing P/E ratio of 47.67 with more than 500 million outstanding shares. Further, the income statement indicates a quarterly revenue growth rate (yoy) of 9.4% and a gross profit of more than 197 billion. At the time of writing, the AMZN stock is trading at $3034.
2. Visa Inc. (V)
Visa Inc. is a payment technology giant that processes trillions of transactions each year. This financial company operates under various brand names, including Visa, Visa Electron, Interlink, and manages online payments between merchants, consumers, and different financial institutions. With its headquarters in Sans Francisco, Visa Inc. has a user-base in more than 200 countries, 3.6+ billion credit cards in circulation, and over 70 million merchant businesses registered on its network.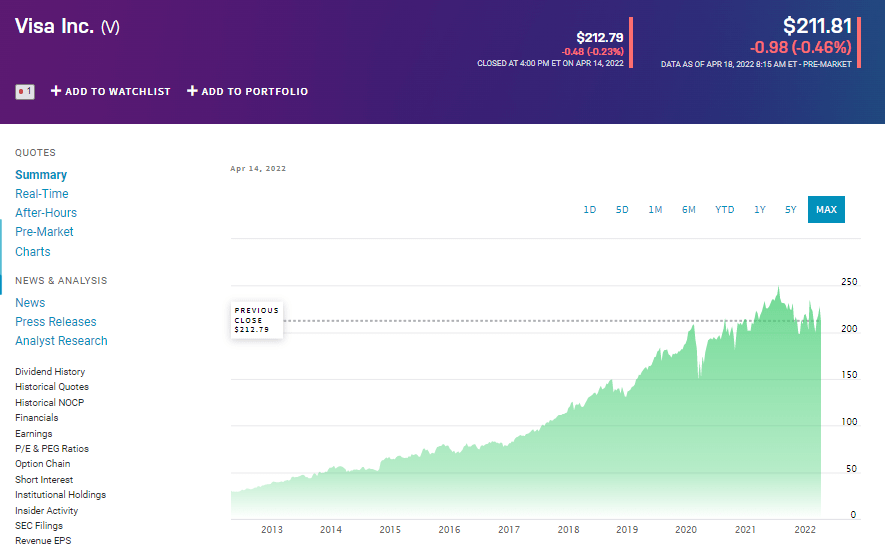 As of now, the company has a total market capitalization of $446 billion with around 1.6 billion outstanding shares. Its profit margin stands at 51.59%, with a trailing P/E ratio of 35.92. With a five-year trailing return of 20.3% and a recent quarterly revenue growth rate of 24.10%, Visa holds the potential to carry on this positive momentum in the upcoming period.
3. Microsoft Corp. (MSFT)
Microsoft is another excellent option among the first-rate stocks to invest in India as it is a prominent software technology giant. Founded in 1975, the company developed the first-ever software that transformed the computing industry. Microsoft Corp. provides licenses and software solutions globally, including the Windows operating system, MS Office, Microsoft Teams, and Office 365. Further, this tech organization also offers Client Access Licenses to Skype, OneDrive, and Outook.com.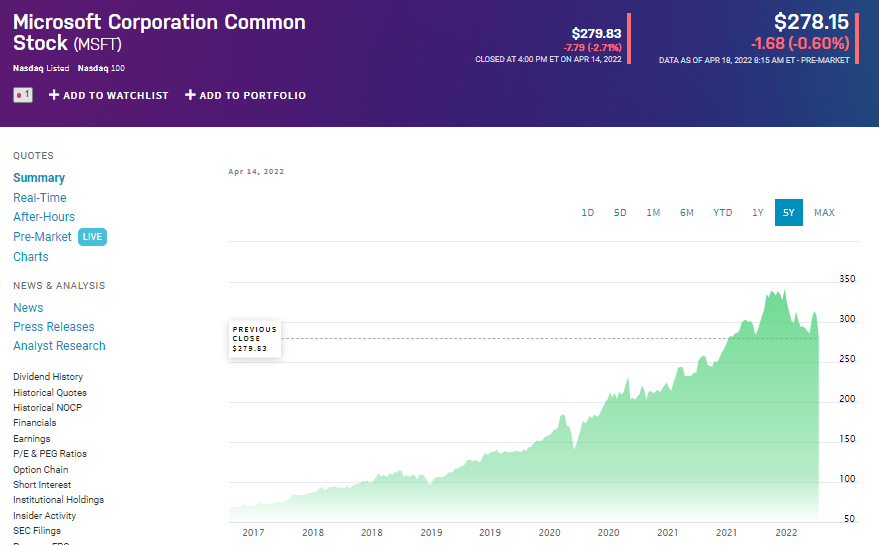 For the past several years, the company has been expanding its approach in diverse sectors. Besides acquiring LinkedIn in 2016, Microsoft has also recently purchased Activision Blizzard Inc., a video game company, exhibiting its plans to participate in the metaverse developments.
According to the recent data, Microsoft Corp. has a market capitalization of above 2 trillion with 7.5 billion outstanding shares. The company's income statement displays a remarkable 184 billion in revenue over the last twelve months with a profit margin of 38.50%. Recording a five-year trailing return of 37%, Microsoft is well-settled on the path of further growth thanks to its multiple ventures and technological advancements.
4. Advanced Micro Devices (AMD)
Advanced Micro Devices is a semiconductor company based in California with worldwide operations. Although the company's stock has been down more than 30% since the start of 2022, it incorporates considerable long-term growth potential. It is because AMD produces and distributes graphic cards, custom chips, and CPUs, which are heavily required in the video gaming industry. The platform also deals with processors, discrete or professional graphics processing units (GPUs) for desktop and notebook PC, data centres, and SOC products.
As of the recent data, the company has a market capitalization of 151 billion with more than one billion shares in circulation. Its quarterly revenue growth (yoy) stands at 48%, with a trailing P/E ratio of 39.30.
With the expanding data centre, servers, and processors markets, ADM products' demand might surge more than 30% by the next five years, making it a reasonable long-term investment option. The recent decision of Tesla to utilize AMD Ryzen processors in Model 3 and Model Y cars could also significantly boost the AMD stock.
5. Johnson & Johnson (JNJ)
Johnson & Johnson is a major name in the healthcare sector known for its research and manufacturing facilities in the healthcare avenue. Based in New Jersey, JNJ operates worldwide through its three branches, i.e. consumer health, pharmaceuticals, and medical devices.
The company offers health products under various brand names, ranging from Aveeno and Clean & Clear to Neutrogena. Additionally, JNJ develops medicines for diverse medical conditions and manufactures medical equipment for surgical and support procedures. This healthcare institution was also at the frontline in the fight against coronavirus and successfully developed a one-shot FDA-approved COVID vaccine.
Currently, the company has a market cap of 473 billion with more than 2.5 billion shares outstanding. Its trailing twelve months revenue and gross profit stand at around 93 billion and 64 billion, respectively. JNJ is one of the best stocks to invest in, as the healthcare sector is expected to grow steadily in the upcoming years under all circumstances. Being a defensive stock, Johnson & Johnson also holds the potential to outperform the overall stock market during economically tough and disruptive times.