In one of the biggest cryptocurrency attacks ever, the blockchain project, Ronin, revealed on Tuesday that hackers stole crypto of over 600 million. The hackers drained the Ronin bridge that connects several different blockchains of 173,600 Ether and 25.5 million USDC tokens in two transactions. Ronin is currently in touch with other cryptocurrency exchanges and Chainalysis, a blockchain tracer, to monitor and see through the movement of the stolen funds.
Ronin informed that the computers known as nodes handled and maintained by Axie Infinity maker, Sky Mavis, along with the Axie DAO that operates the bridge (a software that allows people to easily convert non-fungible tokens (NFTs) into Ronin network approved crypto were attacked by the hackers who then drained it off Ether and USDC in two transactions. They remarked that although this heist happened on March 23, it was only discovered by their officials on Tuesday, March 29. They further contemplate that the hacker had employed stolen private keys- a password required to access the crypto funds.
Ronin said on Tuesday, "We are working directly with various government agencies to ensure the criminals get brought to justice." They further added that they are discussing with Axie Infinity to ensure no users' funds were lost.
The crypto bridges are often rife with problems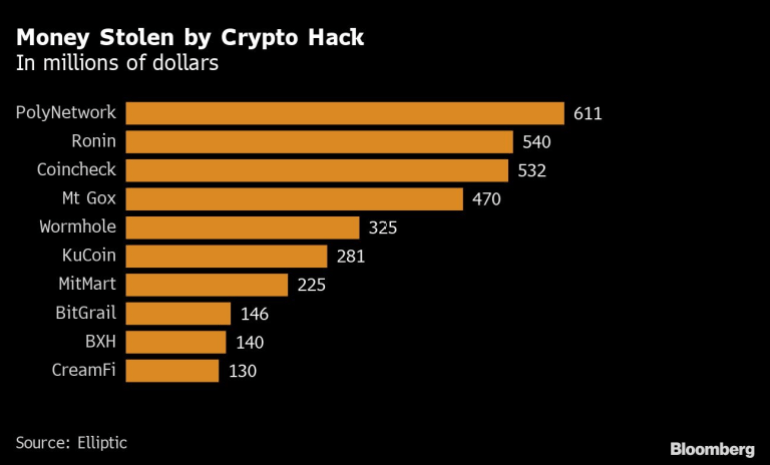 Elliptic shares a list of NFTs and ether stolen by the hackers in this crypto hack, amounting to a total of over $600 million.
This attack scratches the already existing wounds of crypto bridges filled with problems. The computer code employed is not audited regularly, for starters, allowing hackers to exploit these points as vulnerabilities. Most times, it is often unclear who monitors these bridges and how. The identities of validators who are supposed to monitor the transactions on these bridges are usually curtained in mystery. It becomes convenient for hackers to move funds without being tracked.
"The fact that nobody notices for six days screams aloud that some structure should be in place to watch illicit transfers," said Wilfred Daye, head of Securitize Capital, the asset-management arm of Securitize Inc.
The market price of Ron and AXS dropped significantly
Post this crypto heist disclosure, the price of Ron, a non-fungible token on the Ronin blockchain network, dropped by 20%. Moreover, AXS, another NFT used by Axie Infinity, fell by 6% post the hack was made public, as reported by CoinMarketCap.
Ronin said it is working with law enforcement to track these stolen funds and find the culprit behind the heist.