Ukraine's government has inaugurated an official website to accept cryptocurrency donations and raise funds to support the country's fight against Russia. Therefore, the donations would equip the Ukrainian armed forces and aid with several humanitarian programs. This website is a collaborative effort between the Ministry of Digital Transformation of Ukraine, Everstake, and cryptocurrency exchange FTX.
The Crypto Donation Website is Now Live
On Monday, the Ministry of Digital Transformation of Ukraine announced the launch of the official 'AID FOR UKRAINE' website that aims to raise funds supporting the Ukrainian armed forces and the humanitarian aid programs in their fight against the Russian attack. This donation website is a partnership between the cryptocurrency exchange FTX and the staking service provider, Everstake.
The Vice Prime Minister of Ukraine, Mykhailo Fedorov, tweeted on Monday about this new donation website wherein anyone across the globe can make donations in cryptocurrency.
Referred to as the 'Aid For Ukraine', this new website will convert crypto funds donated into fiat and store them in the National Bank of Ukraine. He further remarked:
"This marks the first-ever instance of a cryptocurrency exchange directly cooperating with a public financial entity to provide a conduit for crypto donations."
The website lists all the cryptocurrencies that are accepted along with the bank account information for the government of Ukraine for donation. Donors can send cryptocurrency donations in Bitcoin (BTC), Ethereum (ETH), Tether (USDT), Polkadot (DOT), Solana (SOL), dogecoin (DOGE), and Monero (XMR). Moreover, the Ukrainian government accepts fiat donations in USD, EUR, GBP, AUD, and CAD.
When writing this article, the Aid for Ukraine website has raised over $50 million by the community.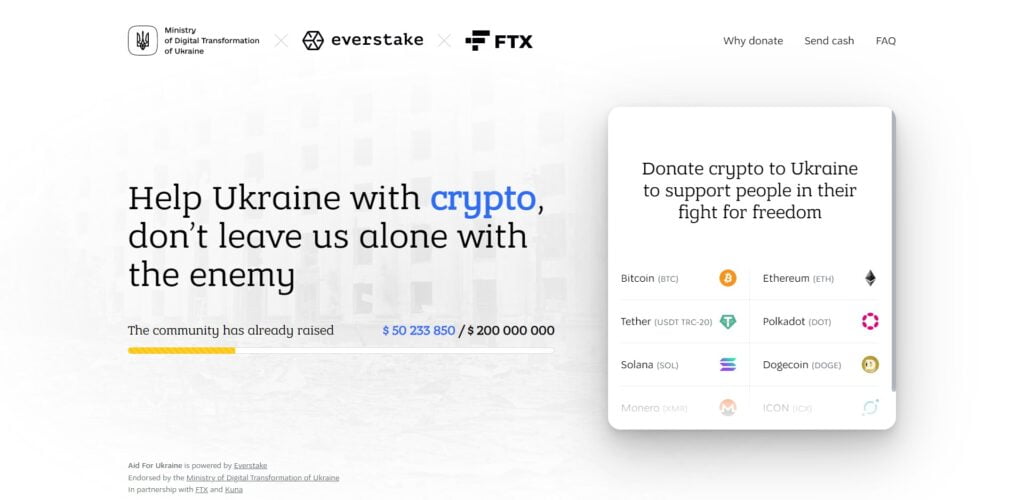 The Ministry of Digital Transformation of Ukraine further explained that these funds will be used on military equipment and Russian combat propaganda. This website is being called upon as the global communication campaign to reflect the actual events in Ukraine. 
Furthermore, these funds will also be used in incidences of "cybersecurity and digital infrastructure recovery, providing additional protection and migration of registers, [and the] purchase of technical special equipment and facilities," the ministry noted.
Earlier in the month, Ukraine's deputy minister of digital transformation, Alex Bornyakov, had revealed that the government had spent $15 million from the donated cryptocurrency on military supplies like bulletproof vests.
People looking to make donations can access their official website.