The Non-Fungible token (NFT) market is one of the fastest booming sectors in blockchain technology. In this article, we will discuss the top 10 most expensive NFTs ever sold.
Top 10 Most Expensive NFTs Ever Sold
10. XCopy's A Coin for the Ferryman – $6.034M
This piece was one of the earliest creations by XCopy made around April 2018. At that time a user named @0xclipse bought this artwork for $139 from XCopy. Which was later transferred to a user @electricmeat in 2019, Who eventually sold it on SuperRare to the current owner @jpeggy for 1330 ETH for the exact sum of $6,032,986.40 on November 4, 2021.
The piece depicts a scribbled face with colourful background with the GIF form making it very appealing to the eye. One of the many reasons why it rose to fame on NFT platforms.
9. Beeple's CROSSROADS – $6.6M
This 10-second clip made by a digital artist Mike Winkelmann who goes by the name Beeple was put up for sale by Christie's which was eventually sold for $6.6M to Nifty Gateway, an online cryptocurrency marketplace for digital art. This piece was unique in itself as this was also a way to acknowledge political events which broke records at that time and this token was also subject to change on the basis of political events depending on the USA elections' outcome, one of the two videos – one portraying victorious Trump, while the other shows a bested one.
The piece portrays people crossing the road paying no attention to the body of former US President Donald Trump lying down in a field with insults written all over his body which ends with a controversial tweet over his body in the end.
8. CryptoPunk #7804 – $7.6M
This CryptoPunk #7804 is just one of the nine Aliens of the CryptoPunks, This Alien punk is with a cap, a pipe and black shades to add to the cool looks. Figma CEO Dylan Field bought CryptoPunk #7804 in January 2018 for $15,000 and sold it in March 2021 for 4,200 ETH estimated $7.5M.
CryptoPunk is an NFT collection on the Ethereum Blockchain. This project was started in June 2017 by the Larva Labs studio made by the duo consisting of Canadian software developers Matt Hall and John Watkinson. They make 24×24 pixel art images. Most are punk-looking guys and girls with some rare types mixed in Zombies, Apes and Alien.
7. CryptoPunk #3100 – $7.67M
Just the day after #7804 was sold, #3100 went up and became a little more expensive than its mate.
This punk is currently owned by address 0x7b8961. And is currently for sale by its owner for 35KΞ ($103.17M).
This CryptoPunk #3100 is another one of the nine Aliens series of CryptoPunks, This Alien punk is wearing a blue and white sports headband. Only 406 of the other CryptoPunks have a headband out of the other 10,000, #3100 is the seventh rarest CryptoPunk to exist.
6. CryptoPunk #7523 – $11.75M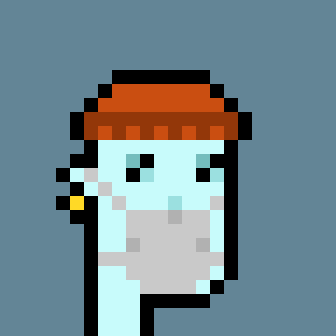 The second most expensive punk sold to date. This punk is wearing a brown beanie and a mask also dubbed as "Covid Alien". This punk is also the third rarest punk in the collection with the price backing up this statement.
On June 2021, London's auction house Sotheby's witnessed #7523 getting sold for $11.75M.
With #7523 being the second most punk sold to date lookout for the most expensive.
5. CryptoPunk #5822 – $23M
#5822 is the super expensive punk holding the spot of most expensive punk sold to date, An Alien punk wearing a blue bandana broke all the records when it was sold for 8,000 ETH worth $23.7M at the time on February 12.
This punk was bought by Deepal Thapliyal the chief executive officer of Blockchain.
4. Beeple's HUMAN ONE – $28.985M
The evolving piece by Mike Winkelmann known as Beeple is One of the more famous digital artists. The Human One shows an astronaut wandering in changing environments, As also promised by the Beeple to update "The Human One" throughout its life to keep it dynamic and alive. This attracted a lot of interest eventually resulting in crypto billionaire Ryan Zurrer buying this piece for almost $29M on December 9, 2021.
He told Noah Davis, the head of digital sales at Christie's. That he was inspired to create the sculpture when he combined several TV screens on wheels into different shapes and patterns and instantly realised that this configuration of screens was a powerful canvas.
3. Clock – $52.7M
This piece has been created by Pak and Julian Assange, As the name says this piece worked like a clock to count the total days of Julian Assange's imprisonment, The motive of this NFT was to raise funds for WikiLeaks founder Julian Assange's legal defence.
It was eventually purchased by AssangeDAO, a collective of cypherpunks who was raising funds in fighting for the liberation of Julian Assange.
2. Everydays: The First 5000 Days – $69.3M
Yet another piece by Mike Winkelmann known as Beeple, Started in May 2007, He promised himself to create digital art for 5000 days straight and he has not missed a single day.
The effort paid out as "Everydays: The First 5000 Days" making it one of the biggest sales in the history of Christie's auction house when it was bought by Vignesh Sundaresan also known as MetaKovan who bought it for $69.3M.
1. The Merge – $91.8M
The Merge was created by the renowned digital artist called Pak, The piece was dissected into 312,686 pieces which were distributed to 28,983 buyers. The Merge was sold on NFT marketplace Nifty Gateway when it officially became the most expensive NFT ever sold on December 2, 2021. A total of 30,000 collectors pitched in to buy it for a total cost of $91.8M.
There's no doubt that NFTs are the next big thing in the Blockchain space. It is becoming more popular as time goes on, but NFT enthusiasts are still unsure about how high is the ceiling for NFT prices?
Did you like this post on the top 10 most expensive NFTs ever sold? Share your views in the comment section